Slingo is popular. No wonder they come up with new variants every time. Book of Slingo is based on the fantastic "Book Of." slot machines.
You have a minimum of 8 Slingos to win a bonus round and in it you have 10 free spins and a Special Expanding symbol that is selected by Book of Slingo itself.
Book of Slingo Review
As with all of Slingo's online slot games you have a 5 times 5 card with random numbers. Once you have wagered an amount you can start spinning and you will see numbers rolling at the bottom. The goal is to cross out as many numbers as possible from your card. You do this in 11 spins. The reels not only release numbers, but also special symbols. These symbols can help you, but sometimes also try to stop you from playing the game prematurely. As soon as you have had 11 spins and still haven't completed the full house you are given the choice to buy additional spins. You can do that to see if it is obtainable or you can start a new game.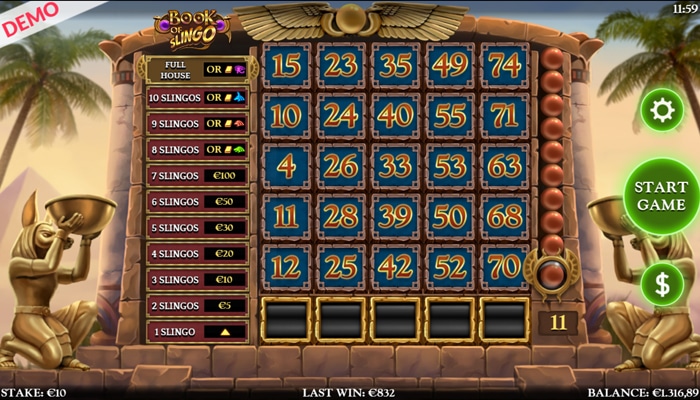 Book of Slingo
Theme
Travel back in time to ancient Egypt with Slingo Originals with Book of Slingo. Egyptology has been a fascination for many people around the world for decades. Especially since Howard Carter discovered Tutankhamun's tomb in 1922. The interest after this discovery grew as more and more was discovered about ancient Egypt. This subject also translated to the online gambling world. The most popular online gambling game is undoubtedly Book of Dead from Play'n Go. With Book of Slingo Originals makes a real typical Slingo game completely in the theme of Egyptian antiquity.
Prizes
Once you are on your way in the game you will see yourself climbing up the prize ladder. There are 11 spins to get as high as possible. If you don't have a full house yet and the 11 spins are over then you can choose to buy additional spins. The cost of this is determined by the lines you have cleared on your card. If you have a lot of lines then the cost of spins is more expensive than if you have fewer lines. If you have unlocked one line you win nothing. If you have 2 lines you win 0.5 times your bet. With 3 lines it is 1x your bet. If you clear 7 lines then you get 10 times your bet. If you clear Full House you will receive 250 times your stake back or 10 free spins with an Eye of Horus symbol.
Possible extras
There is the possibility in Book of Slingo to trigger a free spin round. The first way is to spin Book symbols on the reels. The number of Book symbols that appear on the reels will determine which symbols you can play with for the bonus. If you have three Book symbols then royal or premium symbols can be won. With 4 Book symbols you win premium symbols and with 5 Book symbols you win the Eye of Horus symbol. The second way to activate a free spin round is to unlock 8, 9, 10 lines or a Full House. Once this happens you can choose free spins or the money alternative.
Try Book of Slingo for free here
Play the game Frequently Asked Questions What is the Return to Player percentage of Book of Slingo?
With a good strategy you can assume a 96.38% Return to Player percentage. When you start paying for extra spins, the percentage reaches 95%.
What is the best strategy to play Book of Slingo?
Always complete Slingo lines if possible. Wild and Super Wild symbols help with that. If you can't complete any Slingos make sure you cross off numbers that can do that in later spins.
What is the maximum win in Book of Slingo?
You can win as much as 500 times your stake with a bonus spin round. Although you do need the highest symbol to have a realistic chance of doing so.
Is there a free spin round at Book of Slingo?
Yes, you get different levels of the free spin round depending on the symbol chosen and how many Slingo lines you have. Different levels of the free spin round can also be triggered by 3 to 5 scatters in the main game.
How does the Book of Slingo main game work?
After you bet, you get 11 rounds to play your 5 times 5 card full. You do this by spinning with 5 times 1 reels. The goal is to clear as many vertical lines as possible, also called Slingo lines. The more Slingo lines you unlock the more you can win.
Summary
Book of Slingo is an online slot game from Slingo Originals. The theme of the game is entirely in Egyptian antiquity and you have to make sure to unlock as many Slingo lines as possible. You do this with a 5 times 5 card that contains random numbers. Through 11 spins you have to make sure to clear as many numbers as possible. Important to win are Slingo lines to unlock. The more Slingo lines you have the higher the win. In addition to the normal game you can also unlock a free spin round that fills your card faster. Once the 11 spins are over you can decide to continue playing and buy additional spins or start a new game. With medium to high volatility, it is difficult to reach the free spin round compared to other Slingo slot games.