If you like playing games with an adventurous and magical theme, then this game is not to be missed. When you get started you can soon enjoy nice cash prizes. You play with 5 reels and 10 paylines.
Book of Loki Review
Taking a gamble for the win can quickly be called exciting for you as a player, especially if you choose the Book of Loki slot machine. When you play this game, you can quickly turn a profit. You can win on 5 reels. The game is played with 15 symbols per spin. Playing for the win can be done with many odds and the RTP is 95.8%. In order to win, you must spin combinations on the reels of the game that are complete.
Combinations in this game must always consist of at least 3 symbols of the same kind. It is important for you as a player that the combination is spun on consecutive reels. This must always be done from the leftmost reel to the right. If the combination also follows one of the 10 winning lines, you can count on a nice cash prize. In the prize table you can find out exactly what winnings you can achieve.
Theme & Symbols
Game provider 1X2 Gaming developed the Book of Loki slot machine. This game provider has chosen an adventurous theme with a touch of magic. You are taken to Scandinavia by this game. The Scandinavian god Loki plays the leading role in this game. You must join him in his search for the magical book. Along the way, you will encounter all sorts of things.
The theme of this game is well put together and this is reflected in the background, among other things. On the background of the Book of Loki slot machine you get to see a snowy environment. You can see mountains, canyons and narrow paths covered with snow and ice. It is already getting dark and therefore the illuminated symbols on the reels complement the game well.
If you spin the 5 reels of the Book of Loki slot machine, you can spin beautifully colored symbols. Think of card symbols like A, K, Q, J and 10 in the colors red, green, purple, turquoise and blue. A compass can also be spun on the reels of this game. With the compass, you can get to the direction of the magic book Loki is looking for faster.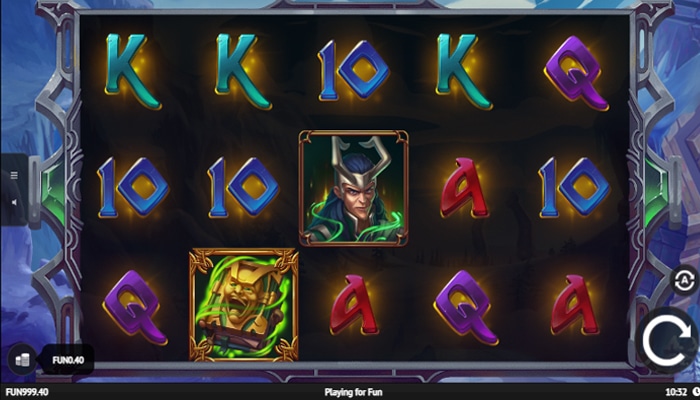 Book of Loki Gameplay
How do I play Book of Loki?
Before you start playing this slot, it's important to get a good grasp of the game rules. You need to know well how to operate the game according to the game rules. For you as a player, it is a big advantage that this game has been given only a minimal number of buttons. The buttons of the game can be found at the bottom of the reels. It is very easy to operate the game.
Among other things, a stack of coins can be seen as a button. This button allows you to place a bet in an easy way when you start playing. When you play this game you will always be able to play with a bet of your choice. However, you must of course take into account the betting limits that are applied. You can place a minimum of 0.10 coins per spin and a maximum of 50 coins per spin.
Once you have placed your bet, you can let the reels spin. To do this you'll need the round black button with the two white arrows on it. If you spin the reels yourself, then you can change the bet after each spin if you want. It is also possible to let the reels spin automatically, but then you play with the same bet every spin. So it just depends on which way you want to play.
Bonus features
This game has plenty to offer when it comes to extra features as well. When you play this game you will be able to increase your chances of winning prizes with the extra features.
Wild symbol

One of the extra features you can encounter is the Wild symbol. The Wild is very interesting because it has a substitute function. It can replace all standard symbol types. This way it's even possible to use the Wild symbol to complete interrupted combinations, so you can still get a prize.

Scatter symbols and free spins

Scatter symbols are also present. What makes the Scatter symbol so interesting is the fact that it doesn't need to form combinations or follow winning lines in order to yield a profit. With the Scatter symbol you can win free spins as well as nice prizes. When you have won free spins you can spin the reels for free.
The Book of Loki slot machine was developed by 1×2 Gaming.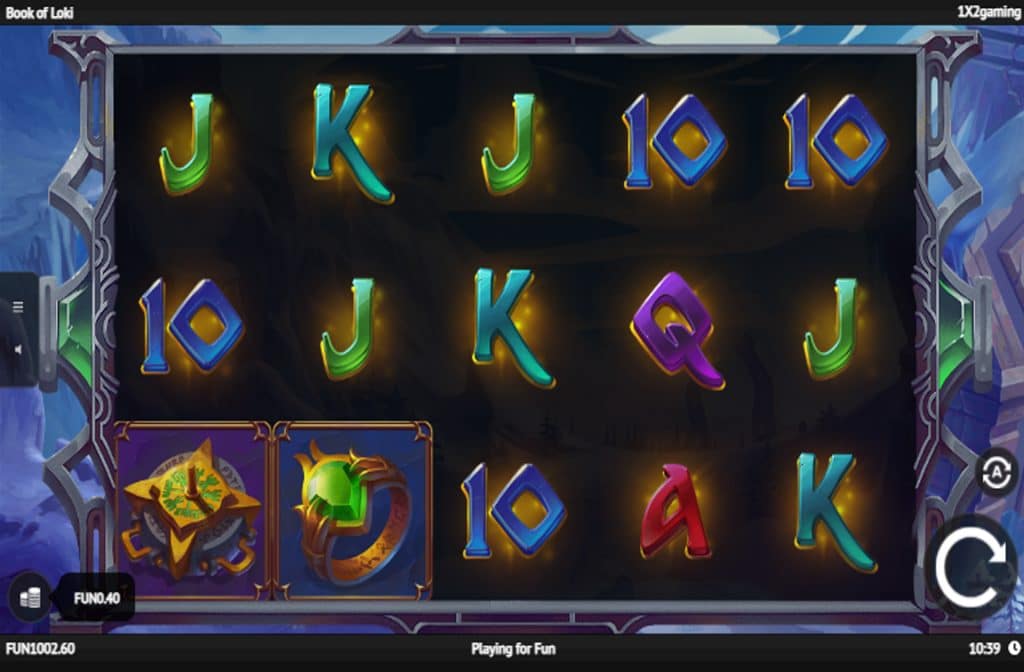 Feel free to take a look at the prize table to see what the respective symbols are worth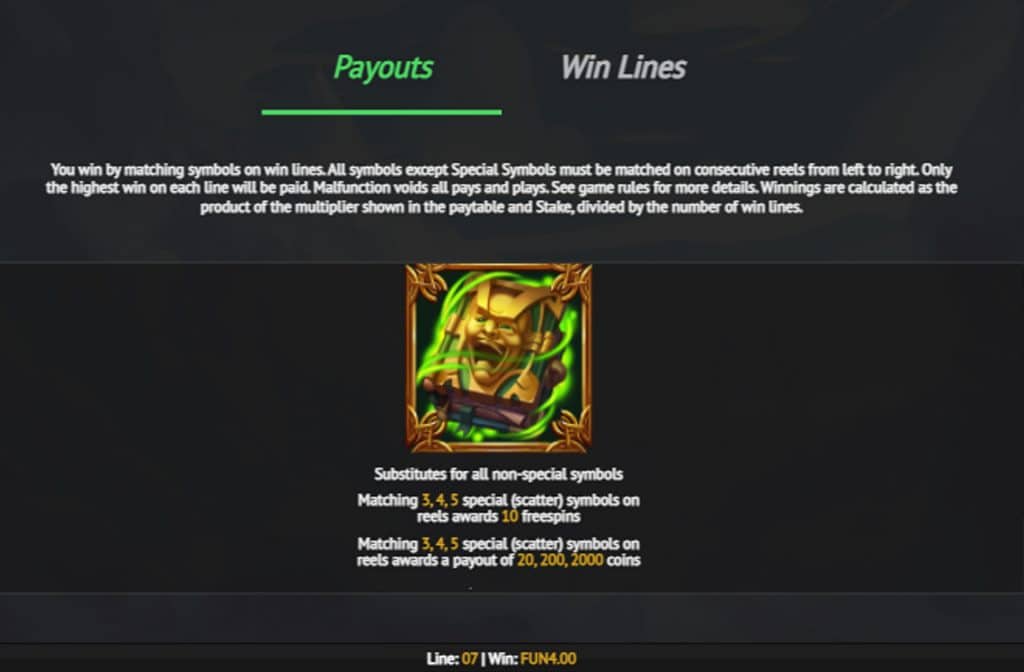 Our verdict on Book of Loki
With us, the Book of Loki slot machine is well liked. The game is fun to play and the theme is put together in a nice way. If you play this game for free on our site you won't get bored easily. You play for great prizes, lots of chances to win and the extra features make this game exciting to play as well.
Strengths

There are some nice extra features added.
You can start playing the game for great prizes.

Negative points

The maximum bet could have been higher.
More 1x2Gaming Slots Book of the Undead
Read review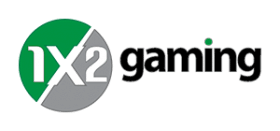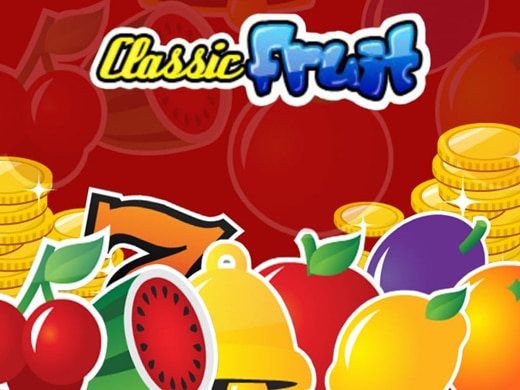 Classic Fruit
Read review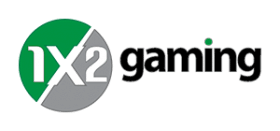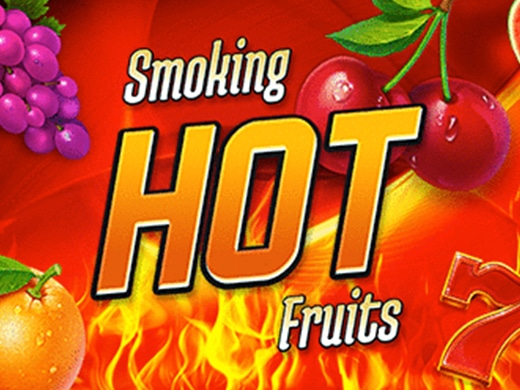 Smoking Hot Fruits
Read review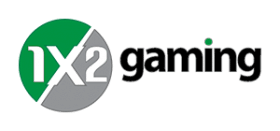 +15
OTHER GAMES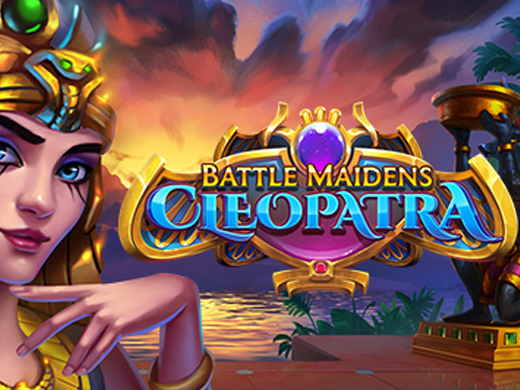 Battle Maidens Cleopatra
Read Review