In this article we will discuss how Blackjack Party works. It comes with a "Bet Behind" option.
With this "Bet behind" you can bet money on places where other players are making decisions. This way there will always be a place, should all 7 places be occupied.
Blackjack Party from Evolution Gaming
Evolution Gaming is the world leader in live casinos and casino games with lifelike dealers. The most famous table games such as live roulette, live baccarat and live blackjack can be found in the online casino. Everything is optimized to play on desktop, smartphone or tablet and a large selection of live table games and various live dealers are waiting for you. Because blackjack is so popular, Evolution Gaming has chosen to develop other variations as well, such as Live blackjack Party.
The basic rules of live blackjack
Blackjack Party is a blackjack table with 7 seats available and 8 decks in total are played in the slipper. This blackjack game has similar game rules to the traditional version of live blackjack, with a few variations. See below for an overview of the basic rules:
The dealer must pass on all 17s.

This means both a soft and a hard hand.

Splitting similar cards is possible.

There is no option for additional cards when splitting Aces. Only one additional card is dealt.

A tie results in a "Push".

In this case you receive your original bet back.

A Natural Blackjack pays out 3 to 2.

You bet $5? Then you win €7.50 in case of a value of 21 with the first two cards (ten + Ace).

An insurance bet is available if the live dealer has an Ace face down.

This is of course not an obligation, but you may find that safer play.

There is no early or late surrender option available.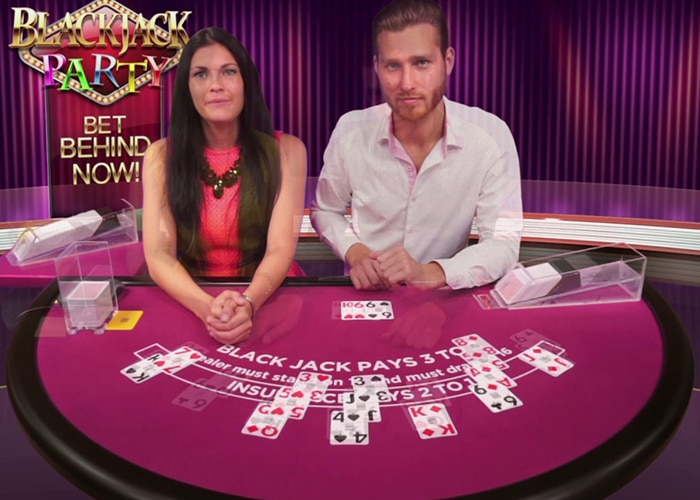 Blackjack Party with two dealers
The unique aspects of this live blackjack game
One of the most unique aspects about Live Blackjack Party is that there are multiple live dealers present. In the background there is also a dealer who regularly shuffles the cards so that playing rounds are faster. There is no need to wait for the dealer to shuffle the cards again as the decks are immediately placed in the deck.
Another important aspect is the side bets present such as 21+3 and Perfect Pairs. And finally, a nice addition "Pre-Decision" is available. This allows you to make decisions in advance such as taking cards, passing immediately, doubling bets or splitting cards with the first player's cards.
Betting on players who are doing well
Bet firmly on a "hot" player, who can be recognized by a medal showing how many consecutive rounds have been won. Furthermore, one or two ribbons and up to three stars around the medal indicate at a glance how well a player is currently playing.
It is possible to place very low bets on the 'Bet Behind' option. This allows new players to get familiar with the game of live blackjack without taking too many risks. Get a taste of the excitement of the Live Blackjack Party.
Are you betting on one of the 7 players and a spot finally opens up? Then you can quickly click on 'Sit Here' and take a seat yourself. From that moment on, other players can also place their money and play along.
Side bets at Live Blackjack Party
Live blackjack Party has a number of side bets on which additional bets can be added to the original bet. There are also side bets, independently of each other, where one can go over the 21 and at the same time have a chance of winning. These two side bets are:
Perfect Pair

You win the side bet if the first two cards form a pair: two cards of the same suit (two hearts Kings), two cards of the same suit and different suits (spades 6 and clubs 6), or a pair of different suits and colors (hearts 8 and spades 8). The highest payout for a Perfect Pair is 25:1 (for example, a 9 of spades and 9 of spades).

21+3

One wins money with the side bet 21+3 in case the first two cards and the dealer's face-up card create a combination similar to poker hand values in Texas Hold'em. Below is the explanation of all the hands you can create and what the payouts and house edge is.
Try Blackjack Party at one of these casinos New Casino!
Casino777
Welcome bonus 100% up to €250 Jacks Casino Online
100% Welcome Bonus up to £100
bet365
Deposit min €10 and receive 100 free spins
BetCity
Welcome bonus up to €100 free spins
Our best bonus! Circus
Get a bonus up to €250
More side bets at Blackjack Party
At Live Blackjack Party there are also a number of combinations that involve the first two cards in combination with the dealer's first card.
Flush
A flush consists of three cards of the same suit. For example, a heart King, Jack and 10. This combination pays out 5 times the original bet and has a house edge of 29.21%. The odds of this combination coming up are 5.84%.
Street
A street consists of three consecutive cards of different suits. For example, a 4, 5 and 6. This combination pays out 10 times the original bet and has a house edge of 30.10%. The odds of this combination coming up are 3.10%.
Three of a Kind
A Three of a Kind consists of three similar cards. For example a 6, 6 and 6. This combination pays out 20 times the original bet and has a house edge of 10.49%. The odds of this combination coming up are 0.52%.
Straight flush
A Straight Flush is the highest possible poker hand in Live Blackjack Party. For example an 8, 9 and 10 of hearts. This combination pays out 30 times the original bet and has a house edge of 6.20%. The probability of this combination coming up is 0.21%.
More articles on Blackjack that might be of interest to you:
Blackjack Tips

Blackjack Strategy

Live Blackjack

All live casino games Conclusion
Evolution Gaming has developed a fantastic blackjack variant with the Blackjack Party game. The most special thing remains the fact that the table is run by two live dealers. They will communicate with the players, make jokes and entertain players. The conversations do not even have to be game related. Through a chat window you can join in on any topic you like. The stream comes with high quality images in HD. When one finds out that the game has slowed down a bit one can go to 'Settings' in the menu and change the video quality (low, medium, high or HD).
At Live Blackjack Party it is possible to play with minimum bets of €5 and maximum bets of €1000. The limits for a Bet Behind are lower, between €0.50 and €100 a time. If you are not yet familiar with the game of blackjack, it might be wiser to play free blackjack first.