The UEFA Champions League begins on August 7, much to the delight of soccer fans around the world.
In today's article:
We tell you what the tournament will look like
Give an update on who is the favorite to win the 2020 UEFA Champions League.
Man City & Bayern Munich have the same odds (4.50).
If PSG wins you get 5 times your stake, what will the Spanish giants do and can Ronaldo still cause a sensation?
What will the tournament look like?
There are 12 teams left in the competition. Atalanta, Atletico Madrid, RB Leipzig and PSG have already qualified for the quarter-finals. They were still able to round off the 8th finals before the corona stop.
On August 7, the remaining 4 8th finals will be played. The away games have already been played. The program on August 7 is as follows:
Barcelona (1) – Napoli (1)
Bayern Munich (3) – Chelsea (0)
Juventus (0) – Lyon (1)
Manchester City (2) – Real Madrid (1)
*(result of the first match)
The quarter-finals, semi-finals and final will all be played in Lisbon. There are no away and home matches and therefore no returns. They are all single matches that will produce one winner. We can't wait!
2020 Champions League winner's odds: (at TOTO)
Man City: 4.50
Bayern Munich: 4.50
PSG: 5.00
Barcelona: 9.00
Atletico Madrid: 9,00
Atlanta: 12,00
Juventus: 15,00
RB Leipzig: 21.00
Real Madrid: 26,00
Napoli: 67,00
Lyon: 101
Chelsea: 251
Are Man City & Bayern Munich worthy favorites?
The two favorite teams for the coveted Champions League trophy, are Man City & Bayern Munich. At current odds, a €100 bet on either team could win you €450.
Man City will go for gold with Pep at the wheel. After the corona stop, they got off to a strong start with a 3-0 win over The Gunners. They have also impressed in the rest of the matches. City is a worthy contender for the Champions League. However, the pressure is on, due to a penalty Man City is excluded from European soccer for the next two years, so it should happen now. And can the departure of Leroy Sané still cause difficulties?
Bayern Munich have also come out very strong after the corona stop. They seem invincible in the Bundesliga and recently captured their eighth consecutive national league title. Only Juventus has managed to do that before.
5 times your bet for PSG
French Ligue 1 winner PSG has been given a rating of 5 by TOTO, so a bet of €100 will earn you €500. In the 8th final, Dortmund were narrowly eliminated with a 2-1 loss away and a 2-0 win at home. But now that Neymar is back in the picture, PSG is definitely a club to keep an eye on this UCL tournament, you can see that in the odds! They are seen as favored after Man City & Bayern Munich.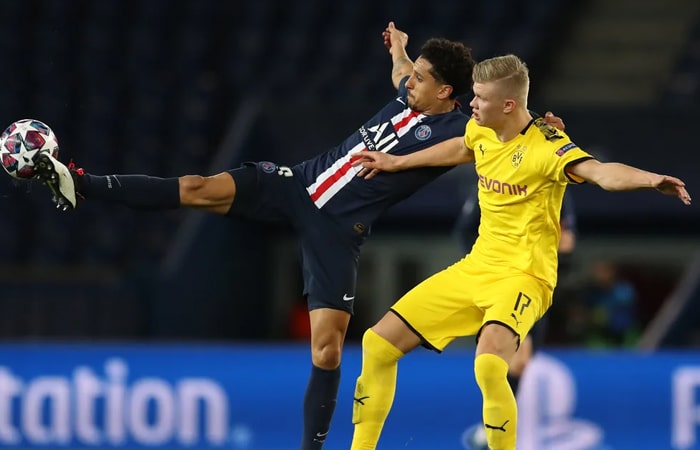 Can the Spanish giants impress again?
Next in line is Barcelona who are in a title race with Real Madrid. Barcelona has a quote of 9.00, so at a bet of €100 you can win €900. Barcelona's magic has not been much to admire this past season. Nevertheless, they remain one of the best contenders for this season's Champions League. In the 8th final, they still have to deal with Napoli.
Real Madrid have been given a real underdog quote of 26.00, meaning that a small bet of €10 could earn you €260. They last won the Champions League in 2018 under Zinedine Zidane. Since then, Zidane has been away and back again to lead Los Blancos to another title. With success, as they seem to be heading for the title. But do they also know how to surprise in the Champions League?
The next Spanish giant is Atletico Madrid, they have been given a remarkably low quote if you ask us. After careful consideration, we understand TOTO. Atletico is always strong in Europe and knocked out Liverpool in the 8th final, so their self-confidence won't be an issue.
Interested in betting on soccer, go to our dedicated page!
Can Ronaldo grab another title before retiring from Juventus?
The first game of the two-match series against Lyon ended 1-0 in favor of Lyon. Juventus will therefore have to work hard if they are to be allowed to play in Lisbon. Ronaldo will want to take the Italian superpower in tow. The odds for Juventus are in our opinion on the high side, so favorable! We think Ronaldo will be very motivated and could still provide a surprise. A bet of €100 on Juventus, gets you as much as €1500!