The online gambling world is constantly changing. Every day new slot machines or other casino games appear on the market.
Every now and then a variant of a game appears on the market that is so cool that all casinos can't wait to get their hands on it and offer it to their players. A provider then offers the opportunity to online casinos to have a kind of first with the game. BetCity.nl and Bingoal have the scoop in the Netherlands with Lightning Blackjack.
A new Lightning game from Evolution
If you're a bit familiar with online casinos then you know that these days the live casino games are hugely popular. Evolution is one of the companies responsible for this huge success. They are the world leader when it comes to top live casino games. They are really famous for their "Lightning" variants of all kinds of casino games.
It all started with Lightning Roulette. At Evolution, they felt that there should be more excitement in a live casino game. They took the decision to add multipliers to the game. So-called multipliers that give an extra boost to a prize won. In Lightning Roulette there are multipliers up to 500x the bet.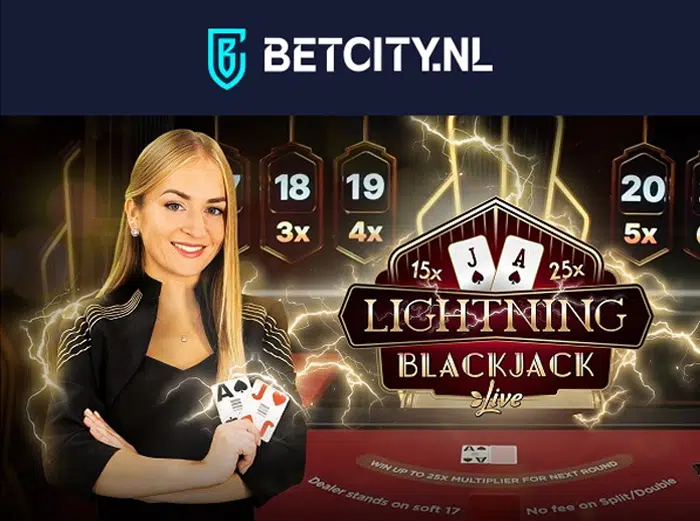 BetCity.com presents Lightning Blackjack
Click here to go directly to BetCity.nl
Now it's time for Lightning Blackjack
After Lightning Roulette, Evolution came up with Lightning Baccarat and Lightning Dice. And now it's time for Lightning Blackjack. Evolution presented the game already in January 2020 at ICE, the largest European fair in the online gaming field in London.
In Lightning Blackjack, multipliers appear with the possible outcome for your hand in each game. If you reach a certain value in a game and win the hand, the corresponding multiplier applies to the next hand. You have to win this hand in order to have the multiplier applied to your stake. If no multiplier is applicable because you lost the previous hand, you will receive the normal Blackjack payouts of 1x or 1.5x the bet.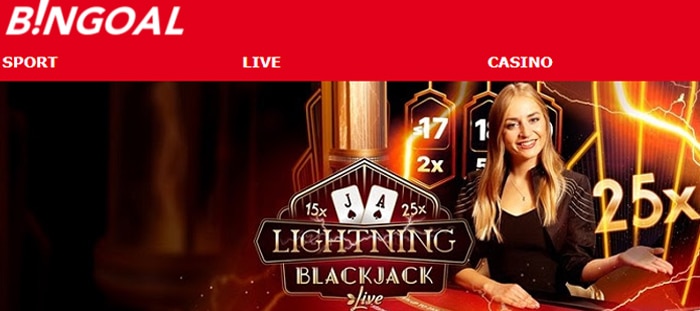 Also at Bingoal you can play Lightning Blackjack
Click here to go straight to Bingoal
Lightning games are super popular
Looking at the popularity of Evolution's other Lightning games, we can expect Lightning Blackjack to become very popular at online casinos as well. BetCity.nl and Bingoal probably have the same hunch, as they have chosen to get the scoop for the Netherlands. This gives them, according to their own words, fourteen days of exclusivity to offer Lightning Blackjack. After those two weeks all other casinos can also offer Lightning Blackjack, at least if they have an agreement with Evolution.