It is almost time, bet365 is coming to the Netherlands. On the 1st of october they were one of the lucky ones who received a license for the Dutch market. Today on the 18th of october they are still not online in Holland. Why is that?
The answer is easy, bet365 leaves nothing to chance and will only serve Dutch customers when they are completely sure that everything is in order.
Go to bet365 and register
Hap of CRUKS
We all saw what went wrong with CRUKS when big gambling companies like TOTO and Holland Casino launched their online casino at the beginning of October. Everything went wrong, registration was a big problem, the helpdesk of these companies went on hiatus and CRUKS (Central Register Exclusion of Gambling) did not work. In short, complete chaos.
It is no coincidence that bet365 was not part of these difficult first weeks. They operate in many legal gambling markets around the world and have experience with the processes involved in such a launch.
It is expected that bet365 will be available for Dutch players in the last week of October. We are looking forward to it.
Read our bet365 review
Excellent Rail Book
bet365 is one of the most successful online gambling companies in the world. This is mainly due to their excellent sportsbook which covers a lot of sports markets and always has the best odds.
The casino is also excellent and has a great collection of games and live casino games. Poker is also offered, so all in all a great addition to the Dutch market!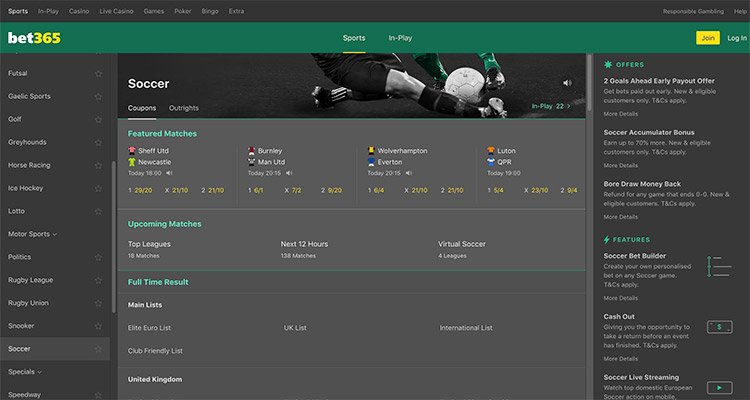 bet365 sportsbook