Authentic Gaming (AG) is an online casino software provider with a large range of games. The company was formed in a unique way, namely from a collaboration of several live casino enthusiasts. The goal of the collaboration became to offer live casino, with a niche on live roulette. Within live roulette, Authentic Gaming has the largest live roulette offering, including physical tables that stream live from various exclusive locations.
Authentic Gaming Review
Authentic Gaming was founded in 2015. In a short period of 24 months, AG managed to get a large group of developers and designers with them. Within their network are Unibet, Leo Vegas and Mr Green, among others. Authentic Gaming holds two licenses: one from the Gambling Authority in Malta, and one from the Gambling Commission within the United Kingdom. This means that they are allowed to offer their games to a wide online audience.
Authentic Gaming is headquartered in Malta. They also have strategic offline partnerships with a number of major resorts and casinos: Aspers in England, the Royal Casino in Denmark and the Foxwoods Resort Casino in the United States. Here you will find some of Authentic Gaming's unique roulette tables. This is a real USP of the gaming provider. Under the slogan "It's not realistic, it's real," they continue to grow steadily in recent years.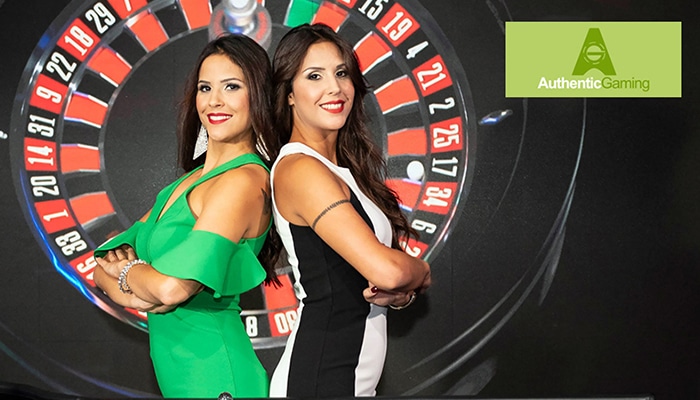 Authentic Gaming has charming live dealers
The complete offer of Authentic Gaming
An important role within the Authentic Gaming offering is reserved for the streams. As an online player, you want to use HD streams and the highest quality, and this is where Limelight Networks and Haivision come in. They are responsible for the offering on PC, tablet and mobile. To give an example: Haivision has also been involved in broadcasting the Olympics in 2012 and 2016. Limelight Networks guarantees high quality in caching, playback and website speed. So you can always gamble at a high level, without the stream faltering.
Variants in the roulette offer
Authentic Games is a big name in online roulette. They have a number of unique variants that have changed the world of roulette forever. Some examples are:
Roulette Turbo:

Speed is the key. A live stream is available from the Hilton Hotel in Georgia. On average, 60 rounds are played in one hour; so 1 every minute.

Double Wheel Roulette:

Live roulette 24 hours a day. Thanks to the double wheel roulette you can play a round twice a minute. Challenging and fun.

Roulette Professional:

Bells and whistles. Here you have fun extras and high winnings at your disposal.

Within the existing range of games, Authentic Gaming has increasingly focused on 'mobile first'. This means that investments have been made in the mobile layout of the games. Especially since mobile games do not always have access to fast internet connections, this is a major challenge. Nevertheless, from now on the offer of AG is completely focused on the mobile impression, and less on the authentic look via a computer.

Playing at Authentic Games

Ease of use is a big factor within the games offered by Authentic Gaming. You notice this from the very first time you play Authentic Gaming games. Gameplay is made incredibly easy, especially in view of the live roulette environment. Betting a coin is made particularly easy. You get an overview of two tables above each other: above the different strategies (like 5/8 bet or Tiers), and below the table with all regular betting options. On both sides you will find all additional options of the game. You'll pass statistics with the numbers from the past rounds, you can easily adjust your bet up or down and you'll get options to consult with the live dealer. Are you absent for a while, or do you like a certain strategy? Then you can also choose an Auto Bet or a Favorites Bet.

Play Authentic Gaming at: Best Live Casino
Betsson

No license in the Netherlands

Read review

Streams from land based casinos

A unique advantage of Authentic Gaming is that games are played directly from landbased casinos. You therefore deal with real live dealers and players who physically stand at the table. It does not allow you to talk to the dealer, which is often possible with the existing live remote roulette games. What you can follow, however, is the interaction between players at the table and with the dealer.

Authentic Gaming has an excellent offering in live roulette, unlike any other provider. The game is played at a real table, with real players and a croupier. You follow the game from various camera positions and that with the highest quality. If you love roulette, but you are not able to be present in a land casino, then live roulette from Authentic Gaming is the most authentic way to play roulette with your mobile or from behind your computer.