Worldwide
Nowadays, as the company moves mainly into the online casino games market, Aristocrat also has branches in Africa, Asia, North America and South America. So the company is now spread all over the world, leaving aside Europe. Whether, during this growth, the company has also maintained the quality that characterized it in its first, domestic years, we are going to look at in this article. Of course, it is important that we are independent and unbiased, which means that we will write about both the advantages and disadvantages of Aristocrat.
If you play Aristocrat games, here's why
It is sometimes seen as a great quality when a casino software developer is mainly progressive, wants to try all sorts of new things and creates original forms of play in the process, but you can also argue the opposite, namely that daring to stay simple is a huge strength. Aristocrat is one of the producers that dares to do that. They don't want too much fuss as far as their games are concerned and thus make sure that the games are easy to play.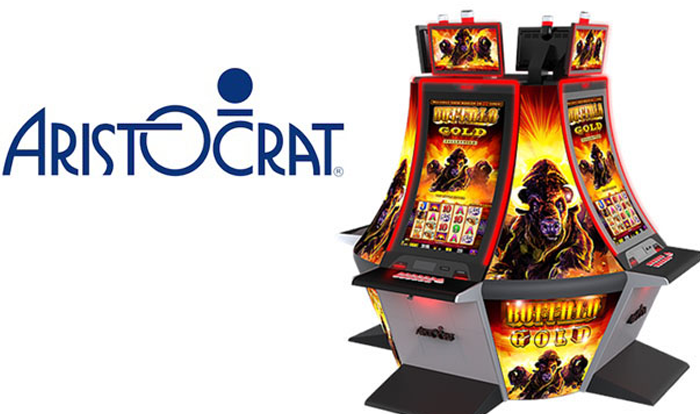 Aristocrat
Strength through simplicity
This ensures that players can play relaxed video slots and can get started right away, without having to read an entire game explanation first. The latter also ensures that they can start winning money right away, something that should work well at all with Aristocrat, thanks to the great winning possibilities.
These advantageous odds are mainly due to the high number of paylines, which totals up to fifty, but in addition to that, as a player you also simply have the great advantage of being able to take advantage of bonuses on a regular basis. Such bonuses can take the form of free spins, for example.
Setbacks
The "just do it, you're already crazy enough" principle that seems to be in force at Aristocrat does not only have beneficial effects, it can also be detrimental if it goes too far. This is the case, for example, regarding the live casino games, which have not yet been developed at Aristocrat, while they are actually indispensable in the current era.
Plans for live casino offerings
Live casinos are in fact becoming more and more popular. It should be noted, however, that there are plans to develop games for live casinos (the current legislation is still somewhat obstructive) and there is a mobile casino. The other 'drawback' of Aristocrat, that the graphics are never really special, needs to be put into perspective. This fits with the way things are done within Aristocrat: the focus is on the game itself and making money from gambling, not on how it looks and whether it is state-of-the-art.