Only in 2011 on the internet
While most casinos made the step to the internet at the beginning of the millennium or even before, Amatic did so only in 2011. As we'll see in a moment, this has both advantages and disadvantages for the current games offered by this company. However, not all qualities and drawbacks of this producer can be attributed to its youth in the online industry, but we will discuss all of that in a moment in this review, which should give you a complete picture of Amatic.
Reasons to play Amatic games
As mentioned, there are both advantages and disadvantages to the fact that Amatic is just entering the online market. One of the big advantages is the eagerness and freshness they display as a result. They are eager to carve out their niche in this rugged landscape, which forces them to be innovative and precise. As a result, all the games they offer their customers are highly original and also invariably of exceptional quality.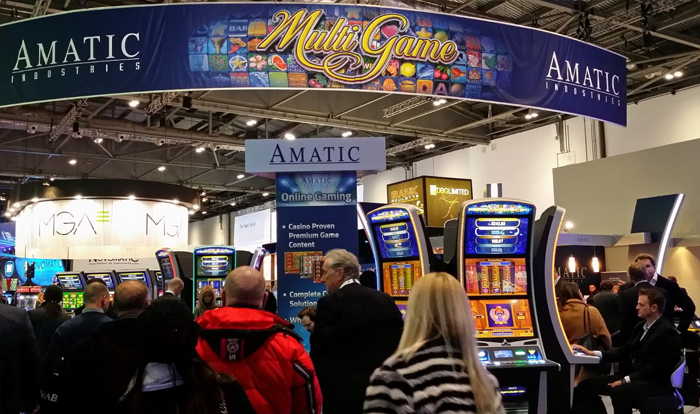 Amatic Industries
Both points are mainly expressed in the graphics. They are just a bit different and more beautiful than most other producers. The same can be said about the gameplay. This does not always mean that the games are completely new, because a large part of Amatic's online range consists of adapted games from land-based casinos. However, because this is done in such a strong and special way, it is safe to put the label 'original' on them, especially when you know that they have also been converted to mobile variants.
The fact that Amatic has a long history as a supplier of land-based casino games also means that, despite its short time on the online market, there is also simply a lot of experience. Because while there are of course differences between online casino games and land-based casino games, the basics are the same and this can be seen in the fact that mistakes are rarely made at Amatic.
What's less about this developer
So, Amatic has several advantages that can be linked to the youthfulness of its online department, but this greenness also has some disadvantages, one in particular. This disadvantage, by the way, has nothing to do with the quality, which after all is just very good, as much as the quantity. Since Amatic only started to offer online games in 2011 and does so in a very secure way, the selection is currently not very extensive. Where other producers see their offer completed by video slots from ten to fifteen years ago, Amatic has to do it for now with a total of twenty games. The quality of these games will pay off a lot, but nevertheless it is still a small blemish on Amatic.