To distinguish yourself as a game developer, you have to come up with innovative things. This gave many developers the idea to work with the function of the wild symbol.
This is why the role of the wild in slot machines varies enormously. In one slot, the feature is fairly traditional, while in another, your chances of winning increase tremendously. Also, in terms of design and accompanying animations, it is always a surprise what a wild symbol looks like.
Over the years, over 10 different types of wilds have come onto the market. Each developer gives their wilds a unique name, but the basic principle is often the same. We will discuss 11 different wilds so you will know exactly how the most common wilds work.
1: Regular Wild
This is the wild as you know it: a standard wild that is the same size as a regular symbol. Therefore, the basic function of this wild is that it can replace the value of other symbols. Despite all the new variants, this is still the most common type.
If you are lucky, you can spin multiple wilds in one spin. Often the maximum winnings are lowered when multiple wilds are spun. In most cases wilds are linked to a standard cash payout of the original value of the winning symbols your wild is part of.
Do you even spin a (big) winning combination of only wild symbols? Then check the paytable to see if you win something with this too. If so, you can often prepare yourself for a hefty payout. Is it not explicitly mentioned how much you can win? Then take a look at the game explanation itself. In that case you can read immediately if you win something and what the value is. Then you will see that the payout is often as high as the payout for the best paying regular symbol.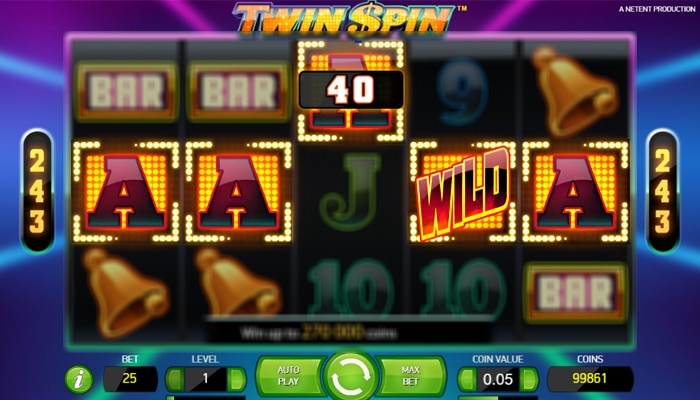 Regular Wild symbol on Twin Spin
2: Sticky Wilds
Freely translated, this wild means a "sticky" wild. This is a catchy name, as these wilds retain the spot they are spun on for at least one subsequent spin. This can certainly occur in the base game, but often you'll find this kind in a bonus game.
Sticky wilds stick around for a number of turns. In a bonus game, often even until the entire bonus game has ended. Do you then spin several sticky wilds over several turns? Then you will earn a nice amount of money every turn. It is therefore certainly possible that during one of the last turns you will find a gaming area with (almost) only Sticky Wilds. Those are some nice payouts!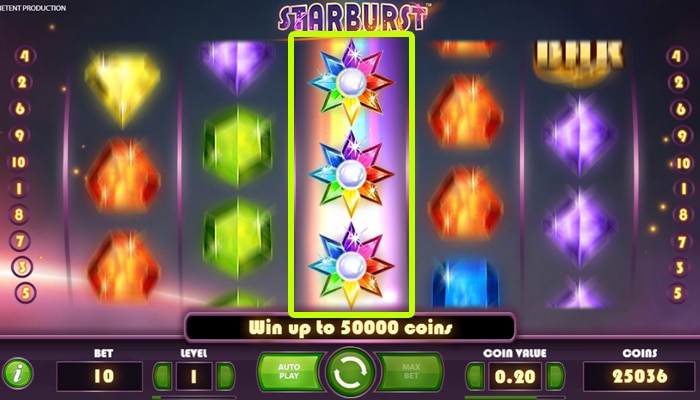 Starburst has Sticky Wilds
3: Expanding / Re-spinning Wild
As the name suggests, this type of wild expands itself. This is what this wild does across the entire reel. You initially spin this wild as a 1×1 symbol. Once it falls and belongs to a winning combination, it only folds itself out.
On some slots, the wild also folds out by default if it falls on the first row of a particular reel. In addition to expanding on its own reel, this wild can also expand to the left or right on some games.
This feature brings with it a number of unique elements. For example, while playing, you can spin a square of wild symbols, which consists of, say, 9 wilds. In other games, folding out a wild symbol earns you a free new spin. Although expanding wilds are often accompanied by their own extra, you can also come across them plenty of times without an extra feature.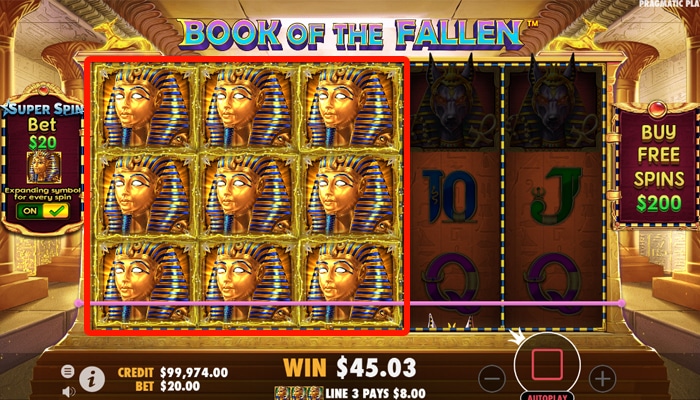 Choose your own Expanding Wild with Book of the Fallen
4: Stacked Wild
A stacked wild is characterized by its different size. If normal symbols have a size of 1×1, a Stacked Wild must be at least 1×2 in size. this can increase to a maximum of the entire reel. In this case we also sometimes speak of a Wild Reel.
In principle, a larger Wild symbol also automatically means a greater chance of a winning combination. Yet this is not always the case. For these wilds the hit frequency (how often you actually spin a certain symbol) is rather low. It is therefore difficult to have such a Stacked Wild appear on your gaming field.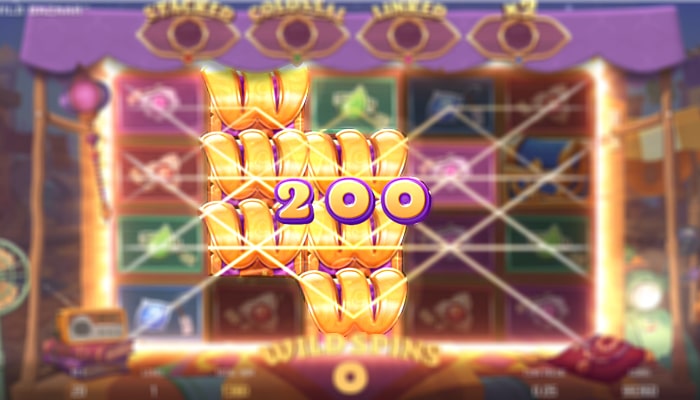 Stacked Wilds
5: Multiplier Wild
Multiplier wilds have basically the same function as a regular wild, but provide a larger payout. They ensure that the value of the combination is multiplied.
How often they are multiplied depends on the value of the wild. Usually this is x2 or x3, but be sure to check this in the paytable or player manual of your favorite slot.
Do you spin not one, but for example two multiplier wilds in one winning combination? Then the multipliers are multiplied by each other for an even bigger payout. This way you can really earn more than is included in the regular paytable.
This makes multiplier wilds a very useful kind of wild. Only: game developers see that too. They make sure that you either spin few multiplier wilds, or that the regular payouts are so low, that you have to spin multiplier wilds to get a reasonable payout. So while the bonus is very good, with these types of wilds you should make sure that the rest of the game is attractive as well.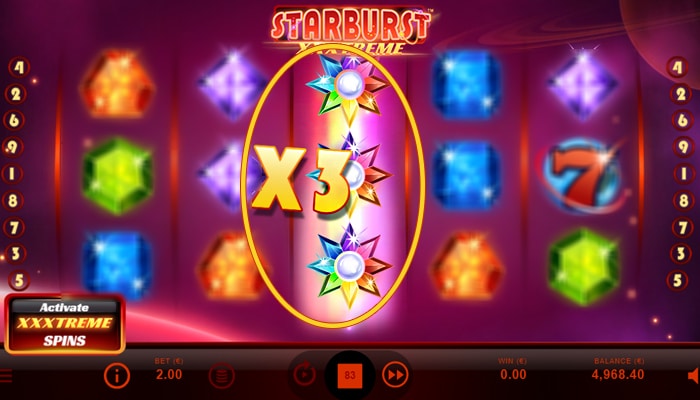 Multiplier Wilds
6: Scatter Wild
A unique wild that does not perform the original function of the wild is the scatter wild. Actually, everything about this wild is different: it doesn't have to fall in a certain pattern, doesn't take over the value of any other symbol and pays out as little as one duo.
What's more, they can also give you a bonus round, such as a free spins bonus. For this you often need three scatter wilds on the board in one turn.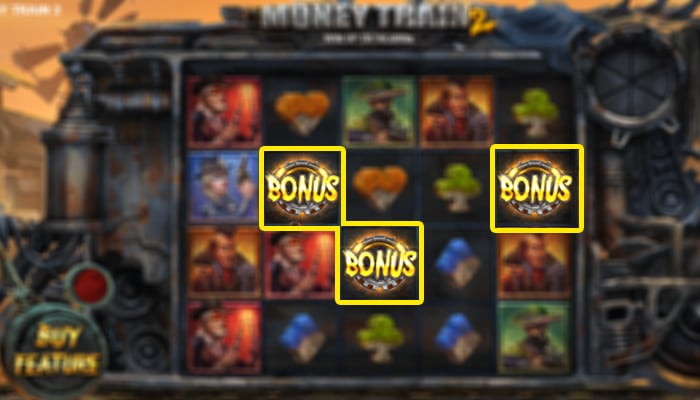 Scatter Wild at Money Train 2
7: Nudge Wild
If you're looking for a 'nudge' game, a Nudge Wild is exactly what you're looking for. When you spin this type of wild, it literally gets a nudge across the playing field the next turn.
In most slots, this is one symbol position up or down, but sometimes left or right.
After that one push, the Nudge wild is often deactivated again, so you only benefit from this type of wild for a short time. Your chances of winning will therefore only increase momentarily. Fortunately, you don't often see Nudge Wilds in online slots: as far as we're concerned, it's certainly not a loss.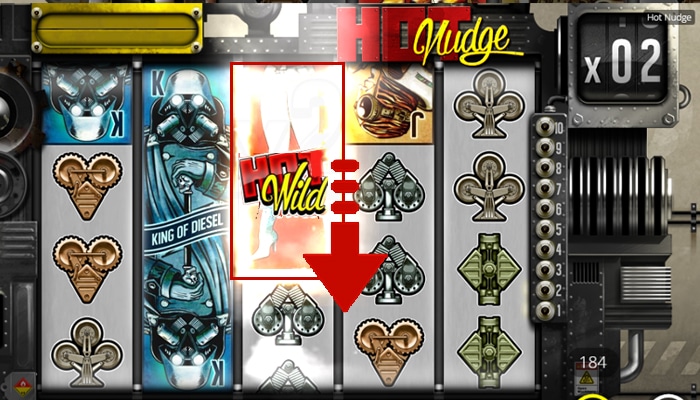 Nudge Wild
8: Waling / Wandering Wild
The name speaks for itself: these wilds can move themselves across the reels. After each new spin, this wild moves one reel to the left or right.
This continues for as many reels until the Walking or Wandering Wild disappears from view. To make the game just a bit more attractive, these wilds are often accompanied by a nice animation to make the movement stand out.
So this wild is quite an effective wild. You stand a good chance of extra payouts for at least two spins. This becomes even better when there is also a bonus feature attached. In a number of games a free respin or free spin bonus is added.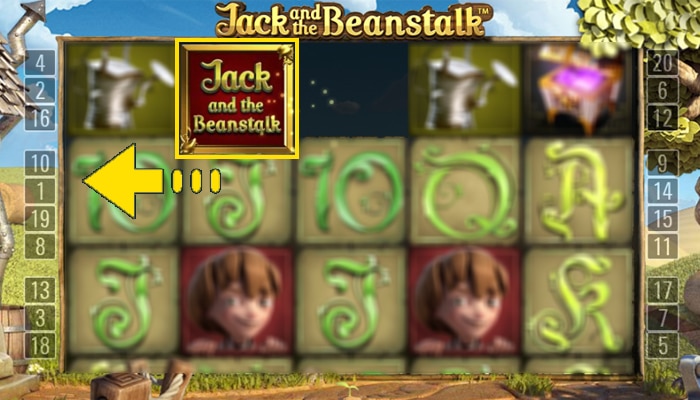 Walking Wilds
9: Random Wild
These wilds are there, but you don't always see them. When a game contains random wilds, these wilds are distributed completely randomly across the reels. Here they take over the positions of the other standard symbols.
How exactly this happens depends entirely on the slot machine you're playing on. Each slot machine also often has an animation for this that fits in well with the theme of the machine.
Because random wilds can fall randomly, playing such a slot machine is often a lot more exciting. Especially when you know that you can also get several at once. The chance of a good payout increases considerably. Keep in mind that you do not suddenly have a large amount of money left over from random wilds: often you get 1 to 5 per turn.
Random wilds otherwise behave like regular wilds: they are the same size as a standard symbol, take over the value of standard symbols in a winning combination and often disappear again at the end of the turn.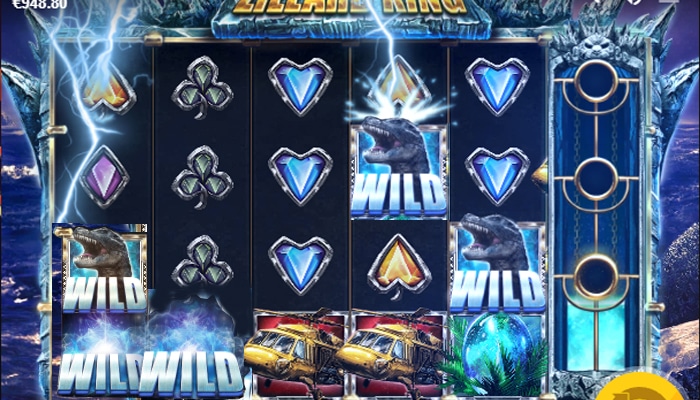 Zillard King has Random Wilds
10: Colossal Wild
They are colossally large and also provide colossal payouts. Where most wilds are 1×1 in size, colossal wilds are 2×2 or sometimes even 3×3 in size. So that means almost guaranteed multiple winning combinations and therefore also almost guaranteed a fat payout.
The only thing that is not colossal is the chance that this wild will land on your playing field. Because it yields so much, the hit frequency for this wild is generally low. Furthermore, you will find these wilds mostly in slots with a high variance, which makes the whole thing even more exciting.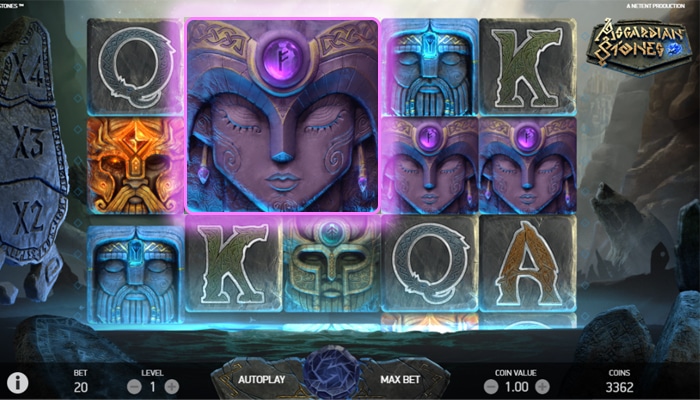 Colossal Wilds
Our favorite slots with different Wild symbols: Book of Dead
Read review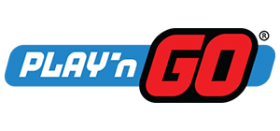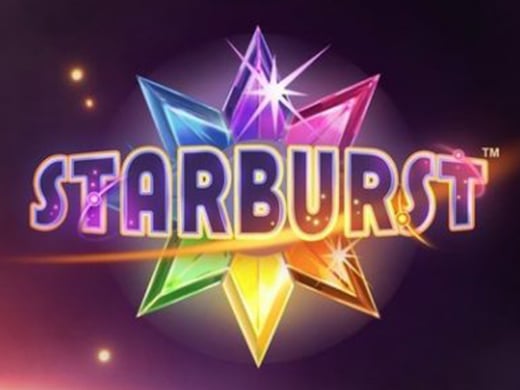 Starburst
Read review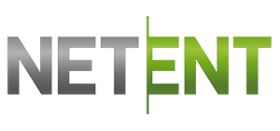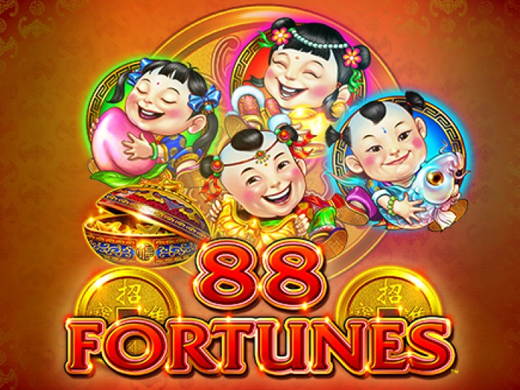 88 Fortunes
Read review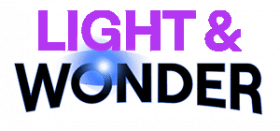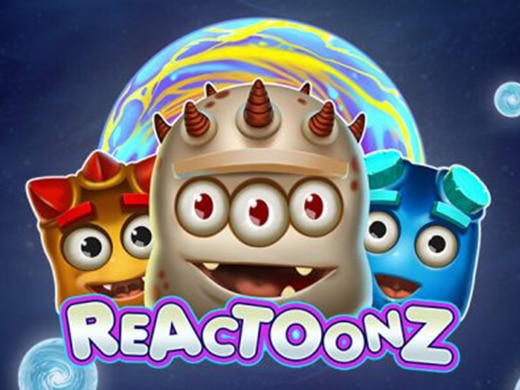 Reactoonz
Read review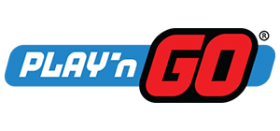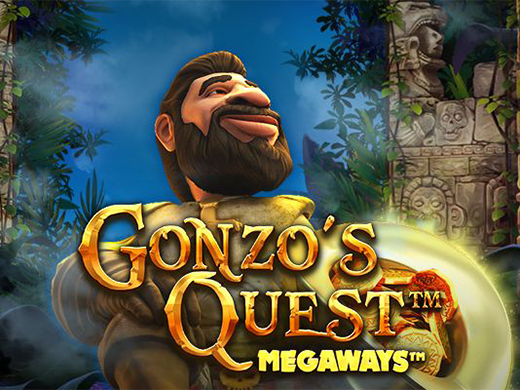 Gonzo's Quest Megaways
Read review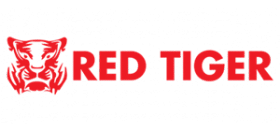 Each slot machine is a unique specimen with its own game rules, its own themes and its own accompanying symbols. Often the same types of symbols recur, but then always in different effects. One of these common symbols, is the so-called wild symbol.
Although a wild nowadays can mean much more than it used to, the principle of a wild is still the same. It gives you a much better chance of forming a winning combination. That chance is even greater with a special wild, which, for example, folds out over the entire reel or can move across the playing field.
With all these different effects of the wild-symbol there is enough to tell about this rather special symbol. So in this article you can read everything you want to know about the wild!
What is a wild symbol?
You'll see it often, but what does a wild do for the game? You can best see a wild symbol as a kind of joker. That means that the wild can take over the 'value' of another symbol. What a wild looks like depends entirely on the game. Sometimes you will literally see the word 'wild' as an indication, but more often the wild has an appearance that fits the theme of the slot machine.
On almost all machines, the wild can substitute for the value of all other symbols, except for other bonus symbols. Think of symbols like the scatter or symbols that can start a bonus game. So for all regular symbols, a wild helps you to make more and bigger winning combinations.
For example, if you have two of the same symbols in a row, they would normally be worth nothing. With a wild you can turn this into a three-on-one row and suddenly you will get something. Also, those four same symbols can suddenly become five-of-a-kind and yield a significantly higher payout. Wilds thus make the game more dynamic, more exciting and generally more profitable. How exactly wilds handle this nowadays depends very much on the game you play.
Origin of the symbol
In the first slot machines, the well known fruit machines, you could often recognize a wild as a grinning man with a hat full of tinkling bells; the so-called harlequin or jester. In the Middle Ages, such a harlequin or jester was used to entertain the local nobility with jokes. In English, this person is known as "Joker. This in turn is familiar to us from a stick of cards, where this joker card could originally take over the value of another card. In casino-style games, the joker was used to increase the chances of winning.
For these slot machines, the symbols used in standard card games were the basis. Similarly, the joker found its way into these slot machines. The function remained the same: the joker could take over the value of another symbol to increase the chance of payouts.
Nowadays, there are few slot machines left that actually use a joker as a designation for the wild symbol. Still, the wild symbol has always remained positively striking, allowing you to notice it well among all the other symbols. Not only the appearance, but also the exact nature of the wild symbol has changed and expanded over the years.
Types of Wilds with types of games
Almost every game mechanism has its own version of a wild symbol. So you'll find them everywhere, from state-of-the-art slot machines using the latest technology to simple remakes of classic slot machines. The type of wilds found in each version varies greatly.
For example, the classic wild is more often found in the more classic versions, such as the slot machines of yesteryear. Expanding or Scatter Wilds are also relatively more common in the older slot machines. If you prefer to play with Wandering or Random Wilds, you will soon have to look for a newer video slot. These newer video slots may even have several wilds included in one game. So if you want to play an exciting game with the latest types of wilds, you will also have to look for a newer video slot.
View all slots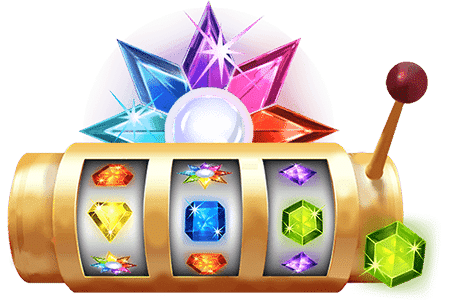 Go to page
Our conclusion on Wild symbols
Wilds have been a part of slot machines since time immemorial. Although the feature has been around for quite a few years, the usefulness of this symbol is far from over. This is because a wild can take over the value of any standard symbol in a winning combination. This way you can make such a winning combination faster and you will go home with a payout faster as well. That is, of course, what every player wants. The chance of playing a slot machine without a wild is relatively small. Fortunately, there are many more slot machines that do include an interesting wild symbol in the game. And an interesting wild can certainly get, especially when you consider the large number of wilds that exist today.
There are about 11 common types of wilds, each with their own unique function. Of course there is the regular wild, but also a sticky wild, random wild, expanding wild, colossal wild or multiplier wild are among the possibilities nowadays. This makes playing on a slot machine with a different kind of wild than you are used to, instantly a lot more interesting. With unique types of wilds, developers try to persuade you to play their game, because it gives you a better chance of getting a good payout. But beware: this certainly does not have to be the case. Take the Colossal Wild, for example. This is considerably larger than a regular wild and therefore also provides much higher payouts, but has an extremely low hit frequency. The chance that you will go home with much more money in a slot machine with promising wild symbols is therefore small. So there is more than enough choice when it comes to the types of wilds in an (online) slot machine. Which type of wild will you definitely be trying out soon?