Slot machines make up the bulk of the profits for casinos. This is partly because they have one of the highest house benefits. In addition, slot machines, which also include fruit machines and video slots, are simply the most popular games in the casino.
Players are drawn to these games, as it were, by the cozy sounds, the blinking lights, but also mainly because (theoretically at least) you can win much more money on a slot machine than on, say, the blackjack tables.
Oddly enough, players who play slots don't always know exactly how these machines actually work. They hit the start button after providing the machine with some money and hope for the best.
There are plenty of things to say about slot machines that might make some players decide not to play them anymore. In this article you will read about some sad facts about slot machines. Sad because they contribute to higher losses for players and higher profits for the casino.
RTP percentages are hard to find
Every game in the casino has a house edge. That's why casinos are always guaranteed to make a profit in the long run. With a slot machine, the house edge translates into a Return To Player percentage (RTP).
This percentage indicates how much of the money put into a slot machine is returned to the players in the form of winnings. However, the RTP is calculated over hundreds of thousands of game rounds and thus does not apply specifically to your gambling session.
The RTP is therefore nothing more than an indication of how much money you can win or lose in proportion. Many players use the RTP to determine whether or not to play a particular slot machine.
In the online casino, these RTP percentages are always mentioned in the description of the game. It is also possible to look up these values online. In a land casino however it is different.
There the RTP percentages are often displayed on a small label on the back of the slot machine. So they are hardly or not at all visible. As a player, you have no idea which slot machine is more profitable or less profitable.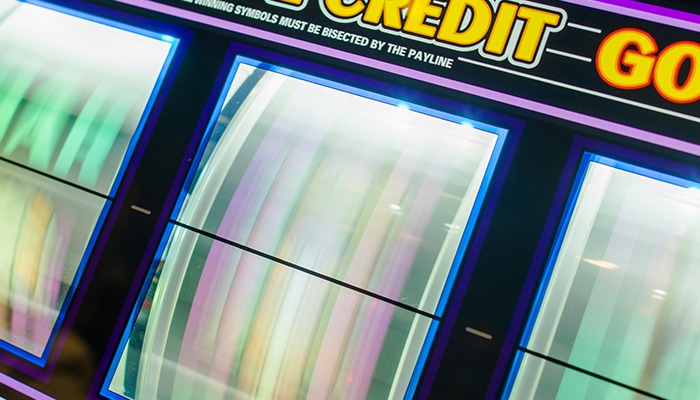 You can't influence the reels of the slot machine, so you have to wait and see what the reels fall on.
Very unfavorable RTP percentages
Those who manage to find the RTP of slot machines in a land-based casino will then undoubtedly come to the conclusion that they are often hugely unfavorable to players. This is common knowledge, by the way.
Because despite the fact that playing slot machines is enormously popular, most players know that slot machines are also the least profitable games in the casino. The RTP of an average slot machine that you can find online is usually between 92% and 98%. This means that for every $100 you play on a slot machine, you get between $92 and $98 back in the form of winnings.
In land-based casinos, however, these percentages are much lower. It is not uncommon for slot machines in land-based casinos to have an RTP of 70%. In that case, playing a slot machine will not cost you an average of €2 or €8 per hour, but €30 and that's quite a difference.
If we compare the RTP with other games, it's easy to see why casinos love players who play slots. In blackjack, for example, the house edge is 1%.
Even in European Roulette, a game considered less advantageous, the house edge is about 2.5%. In short, the house edge on a slot machine is among the highest percentages in the casino. Therefore, slot machines also yield the most profits for the casino.
Deceptively fast game rounds
As a gambler, you should always make sure that you have the lowest possible average hourly loss. You should assume that you will always lose money at the casino. After all, every game has a mathematical disadvantage for the player.
One of the factors that greatly affects your average hourly loss is the number of game rounds you play. At the blackjack table, you play about 100-150 hands per hour. The roulette spins an average of 80 times per hour, but behind a slot machine you can sometimes play up to 600 rounds of games per hour.
If you play each game with a €1 stake, this means that on average you lose €100 to €150 at blackjack, you lose €80 at roulette, but the slot machine costs you €600 per hour.
The house edge is not the only reason why slot machines are less profitable to play on. The number of rounds of play is also extremely high, which means you'll run out of bankroll much faster than you would in almost any other casino game.
Also play at one of these casinos New Casino!
Casino777
Welcome bonus 100% up to €250 Jacks Casino Online
100% Welcome Bonus up to £100
bet365
Deposit min €10 and receive 100 free spins
BetCity
Welcome bonus up to €100 free spins
Our best bonus! Circus
Get a bonus up to €250
Confusing Winning Lines
Everything used to be better, especially when it came to the paylines you used to play slot machines with. You simply had a single payline and three identical symbols had to fall on it. If that happened you won a prize.
Nowadays there are slot machines that have thousands of winning lines. This means that symbols can be combined in all sorts of ways. It is no longer a question of winning lines. Other methods of making winning combinations have also been added.
There are also slots machines where you have to make clusters of symbols and these then determine the prize you win. All these complicated changes don't make it any easier for the player.
In many slot machines it is not even possible to see directly how a prize is established and which winning lines are used. Gamblers usually take this for granted, but it is still very confusing.
Perks come with a side effect
Physical casinos offer players the opportunity to earn points while gambling. With a certain number of points, you can then receive a gift or be entitled to a free meal or even a night in a luxury hotel.
At online casinos you can receive bonuses to play with. You can deposit an amount, enter a bonus code and then receive extra money from the online casino to play with. However, all these bonuses come with hooks and eyes.
First of all land casinos will always pay for the perks from their profits. So it seems like the casino is investing in you as a player when in fact they are just using your own money to offer you a bonus.
Online casinos often attach all kinds of conditions to casino bonuses. Sometimes it's not even possible to actually cash in bonus money. The only thing you can do with those bonuses is just play longer. This does not apply to all bonuses and all casinos. There are casinos that have fair bonus conditions and where it is possible to cash in your bonus money.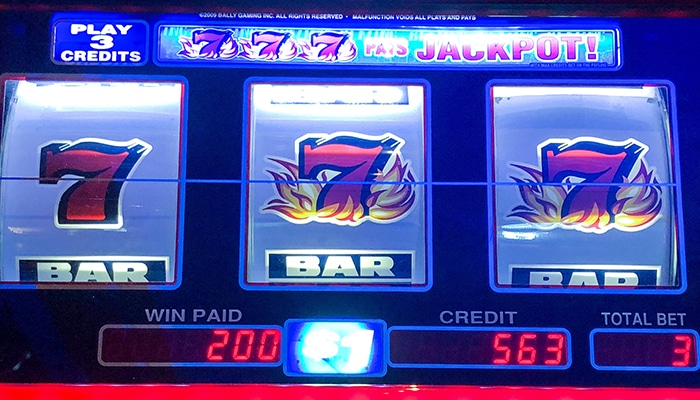 One thinks with a jackpot you can win a lot of money, that's right, however the chance of winning is very small.
Designed to keep playing
When you play a slot machine, all kinds of substances are produced in your brain. These substances not only make playing a slot machine a pleasurable experience, but also ensure that you play it longer and more often.
Game developers take advantage of this science by putting elements in a slot machine that encourage the production of such substances. Think of the feeling of happiness you experience when you win.
For example, game developers have come up with the "losses disguised as winnings" feature. You get prizes that give you that feeling of happiness, but if you do the math you'll find out that you haven't won anything at all.
Suppose you make a bet of €5 and you win a combined prize of €2 and €2.50. Your brain is signaled by the bells, whistles, and lights that the machine triggers when you win that you've won. In fact, you just lost €0.50.
Extra features, bonus rounds, multipliers, wilds and any other feature found on a slot machine, such as a jackpot or double play areas, all have the same purpose: to make you play longer than you intended.
The Jackpot is a marketing strategy
Many slots players dream of one day winning one of those big jackpots that are available on slots. At least, that seems to be the case. In practice, the chances of actually winning the jackpot on a slot machine are many times smaller than winning a big prize in the State Lottery.
Jackpots are specifically designed to give people the idea that there are very large sums to be won on a slot machine. That's true, so it's not a lie, just that the odds are clearly stacked against you.
The casino, by the way, wants players to win larger sums on a slot machine on a regular basis. After all, that's what keeps the illusion going. As long as not too many players win excessive amounts, it's not a problem for the casino. After all, with an average house edge of 30%, the casino is guaranteed to win, especially in the long run.
Conclusion
Players who are fond of slots are usually blind to the important things related to a slot machine. They often don't look at the height of the RTP and don't care about using all sorts of tricks to keep them glued to a slot machine longer.
The fact that hundreds of winning lines are used and that it is therefore sometimes impossible to see which symbols make a winning combination, will not matter to them.
The prospect of high winnings and the entertainment of all the lights, sounds and extra features is more than enough for them to keep playing.