Have you ever wondered how much chance you actually have of winning a jackpot on an online video slot? That chance is higher than you think and especially with Netent. In 2017, they paid out the astronomical amount of 78 million euros in jackpot winnings worldwide at Netent.
321 jackpots at Netent
It is clear that a Netent Casino can also contribute to winning high prizes. Netent is one of the largest software providers of video slots and they were allowed to pay out the jackpot to players no less than 321 times in 2017.
If you want to make a profit
Many people participate in lotteries or gamble at jackpot casinos. No wonder, because every day you have the chance to win great prizes and you don't have to put in that much effort yourself. Of course we know the State Lottery or the Postcode Lottery, where many high sums are paid out to lucky winners.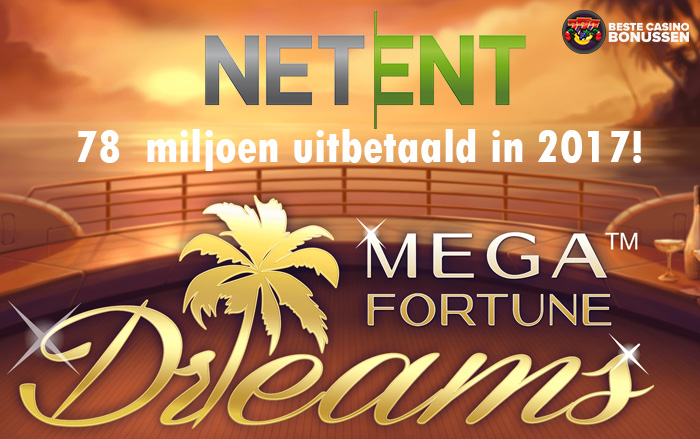 Video slots also have these high payouts, especially if you win a progressive jackpot. Here you can win millions of Euros with one spin. Many people mistakenly think that the chance of winning such a video slot jackpot is low.
To play at an online casino in the Netherlands you need to choose a casino that is in possession of a Dutch license. As it looks now it will be from October 2021 onwards. You'll be able to play at a fully licensed online casino in the Netherlands.
The famous games from Netent
Netent as an online casino software provider has put some great video slots in the market. Mega Fortune, for example, is one of the regular video slots that return in the list of jackpots that have produced the highest winnings in the past. Arabian Nights and Hall of God's are also video slots with high winning chances.
You are playing for so called progressive jackpots, also called the network jackpot. In this area several online casinos offer the same video slot together, which means that many more players can participate in than at a single online casino. This means that the jackpot can sometimes rise above 10 million euros and winning that amount of money is an attractive thought for many people.
The biggest jackpots
The best jackpots from Netent can be played almost anywhere. Mega Fortune is one of the most popular video slots on the internet and this video slot can be played at over 150 online casinos.
Also the casino games Arabian Nights and Hall of God's can be played at dozens of online casinos and undoubtedly at an online casino you know. The biggest jackpots are paid out on video slots with an impressive number of paylines.
Jackpots in 2017
In 2017, Netent paid out 321 jackpots totaling 78 million euros. Mega Fortune Dreams, a sequel to Mega Fortune Mega Jackpot, twice provided a jackpot worth 3.3 and 3.5 million euros, respectively. Interesting detail is that both jackpots were won within the mobile version of the online casino. Mega Fortune Dreams itself, by the way, provided many more lucky winners in 2017, as a total jackpot amount of over 30 million euros was paid out on this game.
The highest jackpot in a Netent video slot was paid out on the Hall of God's game in 2017. There, one lucky player walked away with a jackpot of 7.5 million euros. Many players also won prizes at the other two major video slots, Arabian Nights and Mega Fortune Mega Jackpot. The payout of all these jackpots in 2017, on average almost one per day, shows that for active players there is more than enough to win within the online casino and also especially on Netent's jackpots.