It is common knowledge that poker belongs to one of the most popular forms of entertainment. As a matter of fact, it is one of the card games where your own choices affect the size of your purse.
Over the years, our experts have played thousands of hands at online poker sites and land-based casinos. We've competed online in the live casino against real dealers at games like Three Card Poker, Live Casino Hold'em and Texas Hold'em Poker. In land-based casinos, we have played regular cash games and participated in a poker tournament here and there.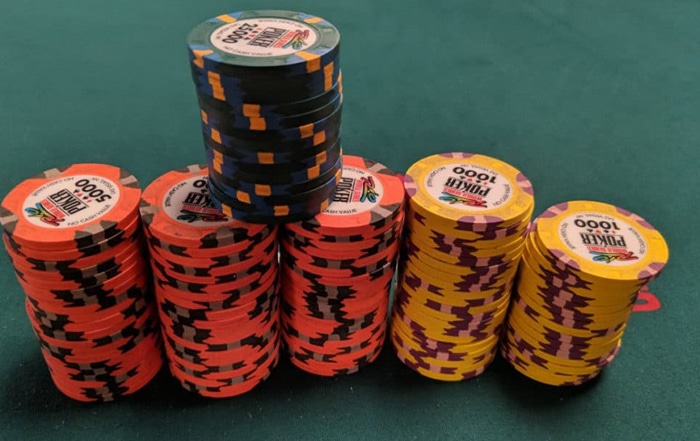 Improve your poker game with our tips
A good bankroll is important
With our experience, we also learned a few things. Although the winnings were not very impressive, we were able to never go broke, and always have a reasonable bankroll to carry out our hobby whenever we wanted.
If you also love card games so much, and want to learn how to play poker at a respectable level of success, we invite you to carefully read our 10 poker tips for more success on this page.
On this page, we're going to talk about the poker form where you compete against other players in Europe (online poker). Use the tips to become a better poker player, and avoid making unnecessary mistakes. We guarantee you that playing poker will be a lot more fun from now on if you apply these tips while playing.
Poker tip 1: Avoid too much alcohol
Many people play poker as a hobby, so many players like to combine it with smoking a cigarette or drinking alcohol. While the former kills you over the years, the latter has an immediate detrimental effect.
Alcohol impairs your ability to judge, which is absolutely the last thing you want at the poker table. Stick to water, coffee, and approach each hand while you're clear-headed.
Poker tip 2: Limit the number of hands you play
When you start playing online poker, your level of enthusiasm can often be too high. This usually results in the beginner's mistake of playing almost every hand, as amateurs like to get as much excitement out of their experience as possible.
Instead of applying this logic, try a more specific poker strategy where you learn to decide which hands you should play, in whatever situation.
Poker tip 3: Don't bluff too often
It always feels great to win a hand with complete air (a weak hand). In doing so, you force opponents to throw away their cards while they had the winning hand. Of course, you want to be able to bluff every once in a while with bad cards in order to win a pot. But by bluffing too often, you'll appear less credible in the future, which makes bluffing more difficult in subsequent hands.
Poker tip 4: Know the odds
At some point in a game, an experienced player can look at the cards on the table and his own cards and determine what the odds are of making a particular hand. By comparing the risk with the reward, the player can decide whether it is worth staying in the pot (also called pot odds). It takes a tremendous amount of practice and skill to master, but it is something that poker professionals do on a regular basis.
Poker tip 5: Combine different styles
Tight poker players avoid taking risks, while loose poker players consider taking more risks. Aggressive poker players often put more pressure on opponents with regular raises or opening pots, while passive poker players wait and let others determine the course of the game.
You should develop a style that combines all of the above styles, as this will make it more difficult for opponents to assess what cards you are holding.
Poker tip 6: Stick to affordable limits
No matter how much success you achieve at a table, always be careful when trying a limit higher. It's acceptable if your poker level has improved and you're ready for better competition at some point, but don't do it to brag. When table limits in poker put pressure on your budget, it's time to go back to limits that are more affordable.
Poker Tip #7: Don't Tilt
Whether you've just had a bad beat around the ears or lost against a player you can't stand, always try to avoid losing control of yourself.
Not only does it make you look ridiculous, but it's also a moment where you start making more costly mistakes. If your head seems to be exploding, try to take a step back and go for a break of, say, 30 minutes.
Poker tip 8: Nobody likes a bad loser
All poker players lose on a regular basis, but it's about how you deal with these losses that define your character. Do you want the players at the table to remember you as a strong opponent who treats his wins and losses with respect?
Or do you prefer being known as an irritating crybaby (take Phil "The Poker Brat" Hellmuth Jr as an example). It may not impact your results, but it certainly determines what people say about you behind your back.
Poker tip 9: Study other players
Most online poker sites offer software that allows players to keep notes on their opponents. Don't forget to take advantage of this option because it allows you to remember players' tendencies and possible weaknesses.
Think about it as if you were doing research like in school before, only now with the potential of winning nice cash prizes by having an edge over your opponents at the poker table.
Poker Tip 10: Find a strong level of competition
There is nothing wrong with seeking out tables where you can easily increase your poker bankroll. However, it is more difficult to improve your poker game if you are constantly up against weaker opponents. At the very least, try to find a balance between the easy to beat tables and the tables where more experienced poker players are present.
More information that can be used to become a better player
Poker at Holland Casino

When to go all-in at poker?

Poker

Video Poker More about Poker
On our website you'll find even more useful poker tips to apply when playing poker online or in a land-based casino. We regularly post useful strategies and advice to improve your game. Furthermore, we have selected reliable poker sites for you, so you can play against other players directly with a poker bonus.