Every now and then you read about sports bets that are made against all imaginable odds. They involve thousands of dollars, and one of the spelrs wins that giga amount.
Especially the bets where the odds of winning are 100 to 1 or even worse. Insane to start with, of course, but if you have the guts, they do yield very nice amounts.
Exceptional sports bets
We have made a list with bets that have made quite an impression on us. Because they often involve exceptional performances. Perhaps after reading these bets, you'll also feel called upon to place such a special bet…. after all, you never know.
Winning with a safety
Safety is a term from American football which indicates that a goal has been scored in a certain (special) way. Scoring via a safety doesn't happen too often and certainly not during once of the most important games in American Football, the Super Bowl. And yet, in 2012, Jona Rechnitz placed a $1,000 bet on a specific bet.
With a win probability of 50 to 1, he predicted that the first point of the Super Bowl that year would be a Safety. He also predicted which team would score from the safety. He was proved right and was paid no less than $50,000. A remarkable detail is that he then donated his profit entirely to charity.
Playing golf in the hot sun
Ok, it may not have been an official sports bet, but it is too good to leave out of this list. Professional poker player Erick Lindgren made a special bet with his poker buddy Phil Ivey and a few other players. He bet that he could play an entire day of golf in the seething heat of a Las Vegas golf course.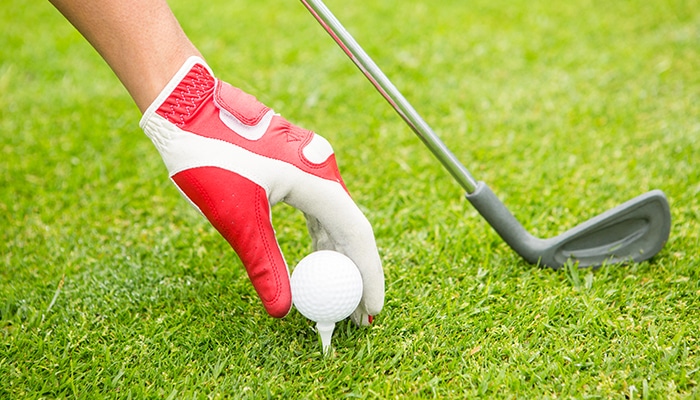 Erick Lindgren won his exceptional bet on the golf course
This involved carrying his own bag, walking to every hole and scoring under 100 on every round. He walked 45 kilometers that day in the blistering hot sun, tackled 72 holes and took home $350,000 at the end of the day. Not bad for a day of golf instead of poker.
Boundless trust from a fan
A fan of the American baseball team the St Louis Cardinals had unprecedented faith in his team. He made a bet that his team would make the playoffs. At the time, the team was five places away from a wildcard position. And yet, he put down $250 against a win probability of 500 to 1. However, it did not stop there.
The loyal fan then also made a bet that his team would not only make the playoffs, but win them. Again, he bet $250, against an even lower probability of winning, namely 999 to 1. You guessed it: he was right. The St Louis Cardinals reached the playoffs in 2011 and then went on to win them. The boundless confidence in his team, earned the delirious fan a nice sum of $375,000.
Here you can place sports bets bet365
100% betting credit up to €100
BetCity
20€ Free Bet with your first deposit

Bingoal
100% bonus up to €250 + 100% Odds Boost
Your family is your friend
Rory Mcllroy is now a legend in the world of golf. He started playing golf at a young age and had the unconditional support of his father from day one. The latter quickly realized that Rory had a special feel for the game of ball. And so the father, along with some friends decided to make a special bet. He bet $254 with a win probability of 500 to 1 on the prediction that within 10 years Rory would win the most coveted golf tournament in the world , the British Open. With just one year left to win the bet, Roy Mcllroy won the British Open at the age of 24.
Hail Mary Betting on odd combinations
In American Football, one can really bet on anything. The crazier the bet, the more you can win. Combining outcomes and betting on these combinations (known as parlay bets) is therefore becoming increasingly common. During the 52nd Superbowl, a fan of the Eagles made a $15 bet that would be won if no less than nine different predictions came true exactly. You probably guessed it: they all came true and earned the daredevil a nice sum of $6000.
All or nothing
James Adducci had made a bet only once before in his life. He bet then that Arnold Schwarzenegger would become governor of the state of California. And got it right. But that's not what he eventually became known for. In 2019, he wanted to bet $85,000 at that year's Masters Golf Tournament. He had to search for a while before he found a booking agency that was willing to take the bet. The entire contents of the savings account were wagered, but that bank account remained quiet for only a short time. He won the bet and it earned him $1,190,000.
Betting on the underdog
You have bets where you have a small chance of winning and there are bets with a win probability of 5,000 to 1. And that was exactly the payout percentage in 2015 on the bet that soccer club Leicester City would win the Premier League. At the right time, an always anonymous gambler placed a £100 bet on this outcome. History shows us the rest of the story. The ultimate underdog story came to life for Leichester City that year. The club began a brilliant run of games and eventually won the Premier League. The lucky winner was eventually allowed to collect a sum of £250,000.
And the rich got even richer
Stories about rich people getting even richer with a lucky bet may not appeal to everyone, but well. Phil Mickelson was and still is an avid gambler on sporting events. In 2000, he gambled that Baltimore Ravens would win the Super Bowl that year. With a win probability of 22 to 1, he bet a not-too-savory $20,000. You guessed it. Phil was proven right and received $560,000. And if that wasn't enough, in the same year he managed to predict that the Arizona Diamondbacks would win the World Series. Some people just have all the luck in the world.
Confidence without limits
In 2019, the St. Louis Blues' ice hockey team was rock bottom in the rankings. Winning the coveted Stanley Cup was seemingly certainly not in the cards that year. However, a seasoned fan of the St Louis Blues, Scott Berry would have none of that. He placed a $250 to 1 bet of $400 on a happy ending. Even when it turned out that the St Louis Blues were doing remarkably well after all and booking agents offered money to hedge his bet, he stuck to his bet. In the final game, the St Louis Blues won 4-1 and thus won the Stanley Cup that year. Their victory earned Scott Berry a magnificent sum of $100,400.
Conclusion
Winning hundreds of thousands of dollars with an unlikely bet is something that even seasoned bettors will experience. However, these stories remind us that if you put down the money and have some guts, you always have a chance to win a lot of money anyway. Do your research and find a nice paying bet and who knows, it might be on our next list of spectacular bets.